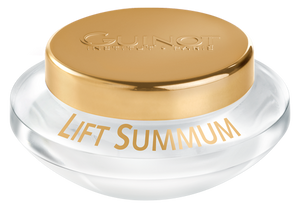 The Lift Summum Cream provides a lifting effect that allows for a firmer and lifted appearance. Restores firmness and density to the skin from the inside out. Enriched with longevitine and sea buckthorn extracts it supports the skin.
- Rebuilds elastic fibres by boosting collagen and elastin synthesis.
- Restructures elastic fibres by stimulating the synthesis of proteins responsible for skin structure.
- Strengthens the dermal matrix by promoting hyaluronic acid synthesis
To use: Apply morning and evening to the face after cleansing thoroughly. Avoid the eye contours.