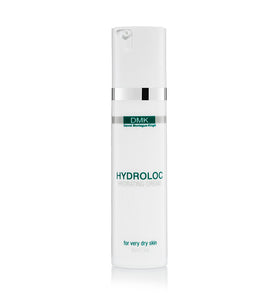 (In-Store Only)
Hydroloc is an intense rehydrating formula. Designed to lock in moisture it is ideal for genetically dry or flaky skin, sunburn and burns or exposure to harsh environments. It is also excellent as a relaxing body massage crème particularly for pregnant women both before and after childbirth around the abdominal area. Sunflower oil is a key ingredient that provides a rich mixture of vitamins that help support healthy skin and pores. Use Hydoloc as an occlusive crème that aids the transformation of skin from dry and flaky to velvety and lush.
How to Apply:
Apply to clean skin with a spritz of Herb & Mineral Mist. To use as a body massage crème, keep adding water to maintain lubrication.
Available Size:
Available in 50ml
Therapist's Tips:
Put under makeup for a flight or under sunscreen at the snow to assist the skin's water levels.
Key Ingredients:
Sunflower Oil (Helianthus Annuus Seed Oil)
Safflower Oil (Carthamus Tinctorius Seed Oil)
Ophiopogon Japonicus Root Extract
If you wish to purchase this product please phone 0214277181 or email beautyregaincork@gmail.com