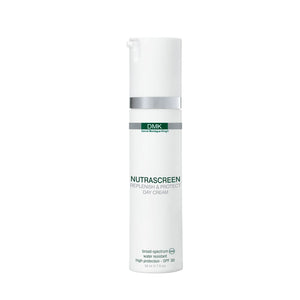 A blend of powerful hydrators restore optimal moisture levels while preventing trans-epidermal water loss for long-lasting results. Skin is left feeling soft and supple.
Broad-spectrum SPF 30 protects against UVA and UVB rays, while antioxidants defend against prematurely ageing environmental damage.
DMK Nutrascreen can be used effectively as a stand-alone day cream. It also works extremely well with DMK Skin Revision products, the DMK Limited range and DMK Cosmetics.
DMK Nutrascreen is water-resistant and perspiration resistant which makes it ideal for use in warm climates and during sporting activities.
Benefits of DMK Nutrascreen:
Provides broad-spectrum, water-resistant sun protection
Replenishes and maintains optimal hydration levels
Suitable for all skin types
How to use: Apply to cleansed skin every morning.
Size: 50ml
If you wish to purchase this product please phone 0214277181 or email beautyregaincork@gmail.com