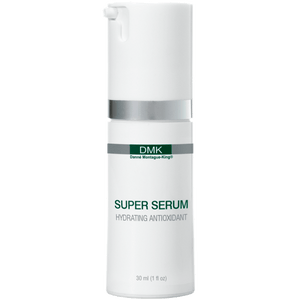 The Super Serum is a hydrating antioxidant serum that is extremely beneficial to those with skin conditions such as acne, poor immune response, hyperpigmentation and premature ageing. It works to stimulate the skin's natural immune system, while added antioxidants protect against oxidative stresses.

Betaglucan stimulates the skin's inbuilt immune system, activating white blood cells in the skin to release compounds that encourage collagen and elastin production in the fibroblast cells. It also contains vitamin C to stimulate collagen production and cell regeneration.

Benefits of DMK Super Serum:

Added antioxidants to protect skin cells against damage caused by oxidative stresses
Stimulates the skin's immune system
Encourages collagen and elastin production
Suitable for those will acne or hyperpigmentation
Suitable for use after treatments such as IPL, micro-needling, laser peels or chemical peels
How to use:

Liberally apply DMK Herb & Mineral Spray before applying Super Serum to the face and neck. It is suitable to be applied to around the eyes and mouth, as well as the neck and body.

Key ingredients of DMK Super Serum include:

Betaglucan – contains potent anti-oxidant and free radical scavenging capabilities.
Ethyl Ascorbic Acid – a stable form of vitamin C that promotes collagen synthesis.
Trifluoroacetyl Tripeptide-2 – supports collagen production.
Panthenol (Vitamin B5) – restores barrier function and aids vital tissue repair.
Sodium PCA – a natural component of the acid mantle.
If you wish to purchase this product please phone 0214277181 or email beautyregaincork@gmail.com