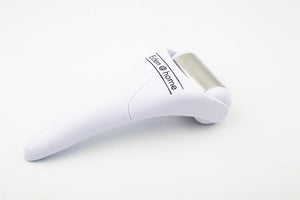 Our Eden at home ice roller is the ideal way to reduce inflammation, soothe sensitive skin and give your skin an instant lift and glow. The detachable barrel is made of steel and when placed in the freezer for a few hours the barrel becomes ice cold and is then ready to use.
Roll over cleansed skin after applying your serum or moisturiser for an instant lifting, firming and brightening effect.
The roller is also fantastic for soothing inflamed muscles and for doing a lymphatic drainage massage on your face, head or neck.
We also recommend using the ice roller after applying your eye cream to reduce dark circles and bags and aid product penetration.
Aids in the penetration of moisturizers serums and masks, refreshes and rejuvenates the skin, aids in blood flow and movement and has a great soothing and healing effect after treatments such as electrolysis, laser, Botox, dermaplaning etc
Available from us at 32 Grand Parade.