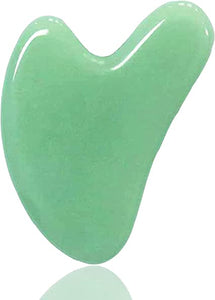 Why Gua Sha? - Gua sha Massage Scraping is a traditional Chinese medicine science therapy. Using Gua sha board can stimulate the immune system, activate sweat glands, excrete toxic waste. Scraping massage also improves microcirculation, reduce pain from plantar fasciitis muscle knots etc. Both acupuncturists & Physical therapists regard Gua sha as a green natural therapy, helps to diminish stress, fatigue, exhaustion, great for relaxing the whole body.
Gua sha can improve Circulation; Improve Lymph Drainage; Improve Skin Vitality and Maintain Beauty; Increase Absorption Skincare Products; Increase collagen and elastin production; Oxygenate the skin; Reduce Puffiness; Relax Facial Tension.
Our Gua Sha Scraping Massage tool is good for Skin Beauty and Body Health. Preventing skin from losing elasticity and promoting blood circulation.

Easy to use gua sha tool - Ultra smooth surface will be able to slide smoothly and never hurt your skin. Use a light to medium pressure, and scrape with an upward and outward direction on both body and face. The gua sha scraping massage tool itself Is easy to store and travel with.