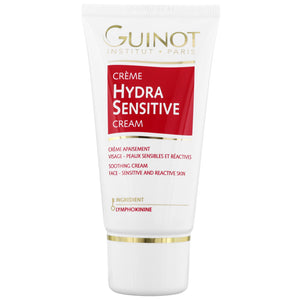 This hypoallergenic cream for sensitive skin will protect reactive skin from the environment and reinforce the skin's natural defence. Guinot Creme Hydra Sensitive Face Cream moisturises and soothes the skin for a softer feel. This desensitising, protective cream will also strengthen the skin's immunity.
- Lymphokine: improves skin tolerance by combining an immediate soothing action to reduce irritation with a protecting action, which reinforces the skin's natural defences.
To use: Apply once of twice a day using circular movements, working upwards from the chin to forehead until completely absorbed.